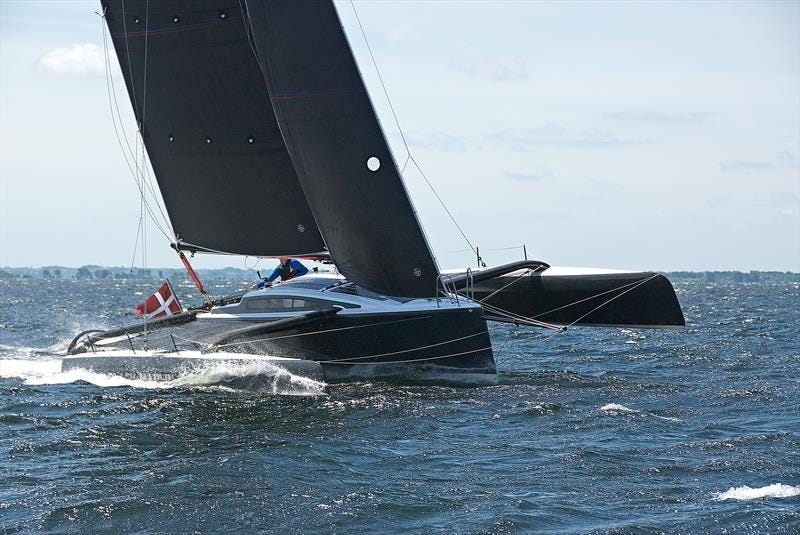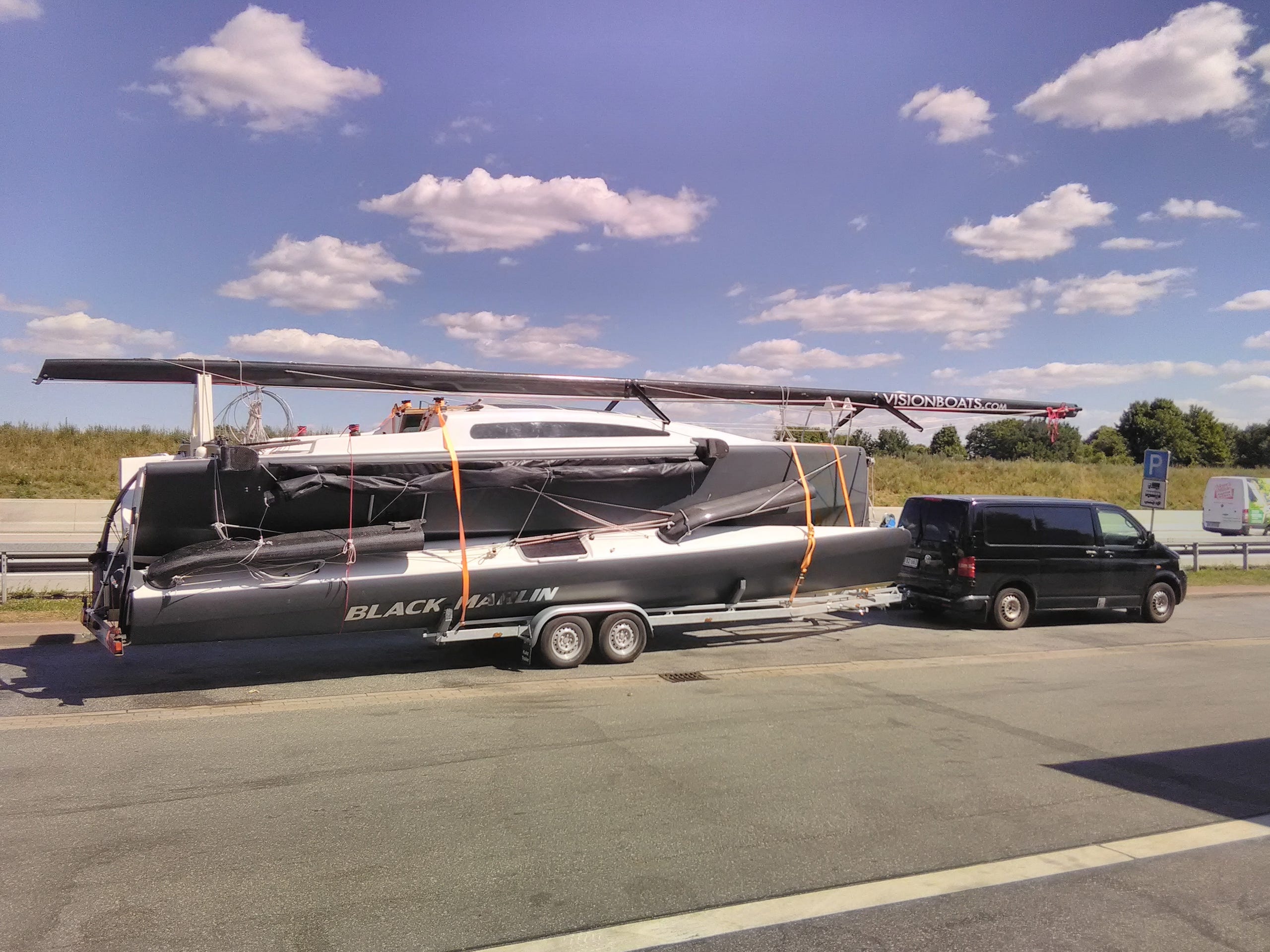 High Speed and Great Comfort!

The Marlin trimarans are innovative and modern carbon multihulls. With sailing performance far above normal. Probably the fastest trailerable and foldable sailing racer-cruiser trimarans of the World.

Speed and comfort combined in a unique style. High volume in the amas (side hulls) to fly over the waves with an powerful rig. Perfectly designed for single- and double-handed racing and cruising. Great for team and family adventures.

The first "Black" Marlin trimaran with the designer, builder and sailor Jan Andersen is multiple winner of line honors (first ship home) and record holder at the World´s largest single-handed race "Silverrudder" (Denmark, 450 yachts). With more victories at legendary races in Europe, the Marlin trimaran is a well proved concept and design.

With the comfort for a family, there is a standing headroom of 195cm in the salon and space for 8 at the table. Marlin trimarans are very simple to operate and can be sailed with one or two rudders to allows to manage from the pontoon. The flat deck offers and excellent visibility and overview.

The Marlin trimarans have a kick-up centreboards and rudders.
This avoids major damage at the boards and hulls if you hit something under the water.
Perfect for sailing in archipelagos, fjords, rivers and bays with shallow and tidal waters.

The Marlin trimaran is self-sufficient in energy with a 450 W solar panel on the roof of the deckhouse, which supplies power for its electric motor, light and other equipment on board.

Last, and perhaps most importantly, is that Marlin trimaran weight of only 1460 kg fully ready to sail. It can be done, because it is built with carbon laminates and epoxy. This construction method make the boats fast and stable as possible for racing and cruising.

WELCOME ON BOARD!
Next test sailing session in spring 2021!
Near the border of the Danube river in north-east of Bulgaria you'll find the new Elica Shipyard. Yachts of all sizes can be built there. Check out the highlights and pictures below:


20,000 m², of which 15,000 m² are work and storage places.
7-axis CNC Kuka Robots on rails to cut plugs
3-axis CNC Kuka Robots for cutting flat plates
Full vacuum and compressor installation
Spare generators so vacuum resin-infusions cannot never be disturbed
New floors with underfloor heating for constant temperature every day in the year
Solar panels on the giant building for ecopower
Insulated walls and roof
Separately sections for painting
Seven rolling cranes, all around 10 tons

Special equipment for vacuum infusion flat panels, with a maximum surface area of 12 to 4m. We use only unidirectional lamination, ideal for flat surfaces and bulkheads in one piece, lighter and stronger. Even vacuum compressed plates with both sides flat and gelcoated.

The Elica Yard is also provided on making carbon pieces, such as carbon mast, booms, poles and ultralight settees. For unique items that require complicated machines, Elica Elevator, the parent company, is completely installed, has all the necessary personnel, the needed top-knowledge and experience. High quality level, at a reasonable cost!
Jan Andersen / +4529729204 / jsa@visionboats.com / Denmark
Roland Gaebler / +491724543074 / teamgaebler@gmail.com / Germany
Jan Verroken / +359895300404 / janv1234@gmail.com / Belgium

Company Addresses:
Jan Andersen / Faborgvej 104 / 5762 V. Skerninge / Denmark
Roland Gaebler / Strassburger Str. 32 / 28211 Bremen / Germany
Jan Verroken / Edelareberg 8 / 9700 Oudenaarde / Belgium